Over 20 Years in Quality Workmanship - Over two decades Phoenix Cabinetry Inc. (PCI) has been providing the highest quality custom cabinetry available on the market. We specialize in helping companies just like yours meet those "make or break" deadlines without sacrificing quality. If your sales force is exceeding your manufacturing capacity, or you simply do not have the capability to manufacturer your own product, you have come to the right place!

On Time Delivery - Phoenix Cabinetry's dedication to quality work and on-time delivery has created our greatest measure of success - a strong and consistent referral business from many satisfied customers.

Shipping Worldwide - We take pride in the fact that we have built and shipped custom cabinetry worldwide for such diverse projects as libraries, churches, opticals, department stores, post offices, colleges, radio stations, and trade show exhibits. Our goal is simple - Strive for the highest level of craftmanship and service for each and every project.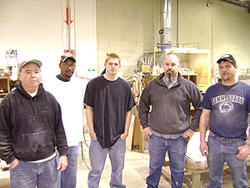 25,000 Sq. Ft. Facility
Installation and Service
Computerized CNC Machinery
Certified Craftsman
Custom Woodworking Fabrications
"LEEDS" Fabrications
Veneer Finishing / High Pressure Laminate
Lighting / Electrical Fixtures
Detail / Design / AutoCad
Computerized CNC Machinery:
Horizontal panel Saw / Point to Point / Busellato Marching
Giben Prisma 3003 / Brandt KDF 520 / Weeke Vantage 36L